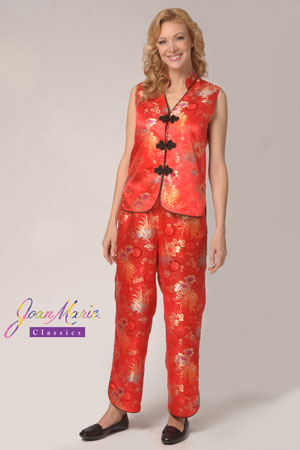 Click the thumbnails to see a larger image.
Style # JM  204
$295.00
This red brocade polyester fabric offers a soft and rich sophisticated feel that enhances your day and heightens your mood. The top can be worn with jeans or leggings to create a classic yet elegant look or worn as an ensemble with its matching pants. Either way, you are sure to feel prosperous and worthy to tackle whatever your day or evening entails. This is a lounge wear style and the fit is easy and comfortable.
We recommend dry cleaning only of this garment for lasting results.
Please join our mailing list and stay connected.
Thank you!



 Tweet
Matching Bow Tie is available
on Accessories page.
Click on bow tie