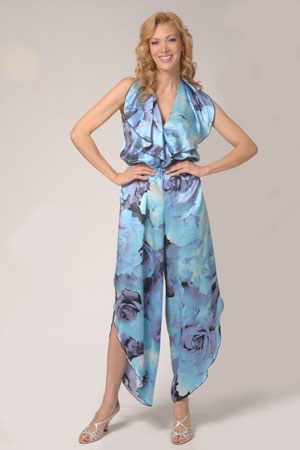 Click the thumbnails to see a larger image.
Style # JM 101
$495.00
Sleek—elegant and absolutely feminine. This one-piece jumpsuit will boost your confidence and self-esteem because when you walk into a room, all eyes will be drawn to you! When you put this 100% silk Charmeuse party-wear jumpsuit on, it changes your whole chemistry – you feel alive, awakened and special.
It features tulip styled legs that will Wow your friends, accented by a handkerchief neckline and an elegant chiffon shawl to help you set the mood. This shawl can be worn around the shoulders, around the neck or on your head for a dramatic appearance.
We recommend dry cleaning only of this garment for lasting results.
Please join our mailing list and stay connected.
Thank You!



 Tweet
Matching Bow Tie is available
on Accessories page.
Click on bow tie