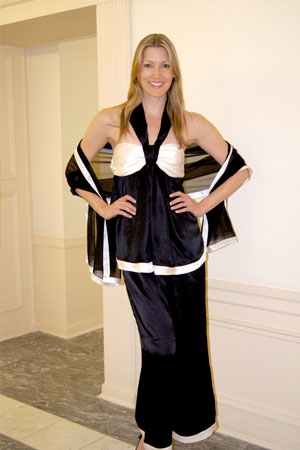 Click the thumbnails to see a larger image.
Style # JM 210
$495.00
You will feel sleek—elegant and absolutely feminine in this black and white ensemble which is perfect for any evening party.
This 100% Silk Charmeuse party-wear fashion collection  features flair legs and a halter top that  captures your imagination and sets the mood for a night on the town with your favorite partner.  There is also a matching shawl that lends drama to the scene and lets everyone know that you have arrived.
We recommend dry cleaning only of this garment for lasting results.
Please join our mailing list and stay connected.
Thank You!


 Tweet