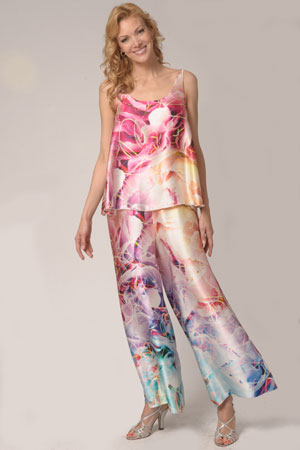 Click the thumbnails to see a larger image.
Style #  JM 201
$375.00
This is a multi-colored 100% silk Charmeuse two-piece garment of palazzo pants with an elastic waistband. The tank-top is loose fitting and accents the pants as it allows for an effortless flow of this garment that hugs your body. The energy in this two-piece silk garment is about healing and nurturing yourself all day long by celebrating your femininity. The tank-top features a self-facing lining with elastic for support and comfort. You can wear this beautiful piece to bed, spend the day in it or go out shopping in comfort, elegance and ease. Celebrate your independence as you develop a colorful attitude!
We recommend dry cleaning only of this garment for lasting results.
Please join our mailing list and stay connected.
Thank you!


 Tweet