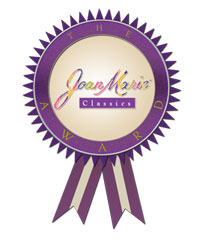 The Joan Marie Classics Award is a passion of Joan Marie Ambrose who believes strongly in helping women who are in need whether it is due from a financial crisis, an abuse or a situation that has left her isolated and stranded from the world and her family. Joan Marie remembers when she first became a single mom in the 70's and how much a small monetary gift from a friend meant to her. "Women supporting women" is at the core of the vision of Joan Marie Classics.
The mission of Joan Marie Classics in the words of it's founders, renowned intuitive Joan Marie Whelan and author Joan Marie Ambrose, is "to celebrate femininity and womanhood as we help you ignite the divine power, love and strength within you." As we move forward in the fashion world, it is our intention to serve the community of young girls and women and help make a difference in their lives.
We are proud to team up with Safe Horizon, the nation's leading victim assistance organization, to become one of their partners in the fight against abuse.  Our initial endeavor will be granting $1,000.00 awards to girls or women recommended by Safe Horizons who need assistance in moving forward with their lives.  We join Safe Horizon in bringing awareness to issues of abuse and how it impacts our communities, our homes and our workplace.
A percentage of all clothing sales will go into the Joan Marie Classics Award.
We appreciate your support and encouragement towards our vision.  We believe that every woman and child deserves a chance to live a fruitful and meaningful life and we want to contribute to that goal.  When we teach women and girls to stand on their own two feet as positive contributors in their home and community, everyone benefits.
For more information about Joan Marie Classics or to place orders, visit www.joanmarieclassics.com. If you are interested in acquiring the line for your store or pulling pieces for editorial or photo shoots, please contact Joan Marie Ambrose at customers@joanmarieclassics.com or 941-954-8001.

To learn more about Safe Horizon and read about their amazing work, go to: www.safehorizon.org